So, you've decided to outsource your development. Whether you're a startup establishing your online presence or an enterprise looking to revamp a mobile application, you need someone who can build a game-changing solution to take you to the forefront of your industry.
While product outsourcing can take a load off your shoulders, it can quickly become a burdensome task. You're faced with vetting your prospective partners, but there are hundreds of them — and they all claim to be experts. In an age when just about anyone can claim to be a "digital wizard," having a discerning eye is more important than ever.
Just as reviews can guide a purchasing decision on Amazon, they can also help you decide who to partner with. Clutch, a B2B ratings and reviews platform fulfills this niche need. They uniquely publish detailed reviews of real business engagements, giving you a better sense of what working with a service provider will look like.
We're proud to declare that we've accumulated many 5-star reviews on Clutch. They shed light on our unmatched development expertise in both web and mobile development.
Even more exciting — Clutch just recognized us as a top developer in Mexico!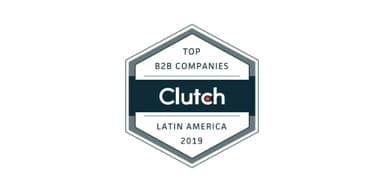 We couldn't be happier. This award means a huge deal, especially since development is such a saturated industry. Clutch's researchers examined hundreds of regional providers before ranking us among the very best.
To celebrate this spectacular news, we'd love to share a review we recently received.
This was an engagement where we built a website for a food and wine imports company. We executed both the front- and backend development.
We were thrilled (but unsurprised) to hear that our client loved our work!
Customer satisfaction means the world to us, so we love receiving rave reviews like this.
We urge you to head on over to Clutch, where you can read about our other projects. And while you're at it, shoot us a message. We'd love to take on your next project.